This time. friends, it was hard to retrieve information, especially about the AVRO 688 Tudor I, unless another German (*Jemiba*) from airwarfareforum provided me an article from "Aeroplane Monthly", written by John Stroud and issued December 1993. I could have made it easy to myself and just upload it, but I thought, for readability and combination with the other few information I have, to shorten and to rewrite it a bit. Also, I could change the size to a comfortable one, including the one of the pictures.

So, after having a start looking at the nose of Tudor IV "Elizabeth of England" G-AGRF,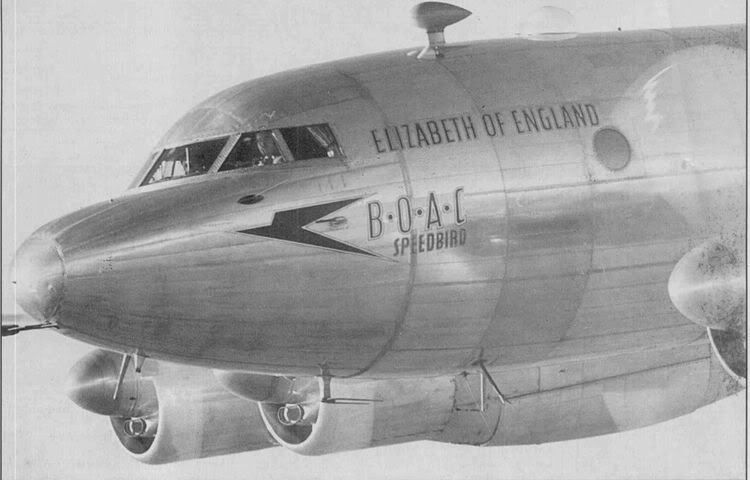 let's have the begin for the


AVRO 688

Tudor I

The AVRO Tudor wasn't a great success, rather the contrary. Combining the wing of the great Lancaster with a completely different fuselage didn't show to be the best idea.
The construction of the AVRO 688 based on recommendations of a committe under the chairmanship of Lord Brabazon of Tara, which between late spring 1943 and autumn 1945 made gave specifications for not less than nine types of commercial transport aircraft for post-war use.
To meet one of these recommendations, A.V.Roe & Co. Ltd. first decided to build the AVRO 687 or AVRO XX, merely a Lancaster IV/Lincoln bomber with a new circular-section pressurized fuselage, and a large single fin and rudder in place of the predecessors slim double ones. During the design stage, the mere conversion idea was abandoned and the constructively more distant AVRO 688 was schemed (although I cant say which were the basic differences between AVRO 687 and 688, RT). The drive system ove four Rolls-Royce Merlin liquid-cooled engines was retained. Two prototypes were ordered, in Septdember 1944, and the first one flew on June 14th, 1945, and was the first British pressurized transport aircraft, although it originally flew unpressurized.

The AVRO Tudor I prototype G-AGPF:



When I (RT) was asking for help on airwarfareforum.com, honoured contributor Ton Meynders provided me, besides pictures, an article from Aeroplane Spotter 1945/46 about the first flight of the AVRO Tudor: (link dead) http://www.airwarfar...pic.php?t=5008

The Tudor I was intended for North Atlantic operation. At the time it was designed the USA had the Douglas DC-4 and Lockheed Constellation, so the less said the better about designing a four-engined pressurized aeroplane of some 70,000 lb all-up weight and nearly 7,000 hp for 12 passengers. Nevertheless, in November 1944 the Ministery of Supply ordered 14 Tudor Is for BOAC, and in April 1945 increased the production order to 20!
The Tudor was a low-wing cantilever monoplane with four engines, a single fin and rudder and a retractable tailwheel undercarriage. The DC-4 and Constellation had nose-wheels instead.
The wing, of NACA 23018 section at the root, was a five-piece all-metal two-spar structure. The untapered centre section carried the inboard engines and main undercarriage sections. The inner and outer sections were tapered on their leading and trailing edges, and had a 2 degrees four minutes dihedral on the top of the front spar, with the inner sections carrying the outbound engines. The spar booms passed through the fuselage in rubber-scaled shrouds. The ailerons had trim and balance tabs, and there were hydraulically operated split flaps in three sections on each side of the trailing edges of the centre section and inner wings. The 3,300 Imp gal fuel capacity was provided by eight crashproof bag tanks, on on either side of the fuselage in the centre section and three in every inner wing.
The circular cross-section wing was an all-metal semi-monococque structure with 10 ft. maximum diameter. Above floor level there were inner and outer skins with kapok filling. The metal tail unit had a dorsal fin built integrally wit the fuselage, a 43 ft. two-spar tailplane with inset divided elevators. The control surfaces were mass-balanced, and each had controllable trim and servo tabs.
The hydraulically operated main-wheel units were similar to those of the Lancaster, had single Dunlop wheels and retracted rearward into the inboard engine nacelles. The twin tailwheels retracted rearward into the fuselage and were enclosed by twin longitudinal doors.
The prototype Tudor I had 1,750 hp Rolls-Royce Merlin 102 12-cylinder vee liquid cooled engines. The first production airplane originally had these engines, but standard engines were 1,770 hp Merlin 621s. They were enclosed in circular section nacelles and drove 13 ft diameter Rotol four-bladed constant-speed fully feathering propellers. There were underslung radiators and large spinners.
The crew section was arranged for two pilots, a radio operator, a flight engineer and a navigator - an operating crew of five for 12 passengers (where are the stewards?, RT). There were different equipments for a lot of different passenger numbers, from 12 up to nearly 80, as we will see later. When the author of the Aeroplane Monthly article flew in the machine (G-AGRC) on May 1st, 1946, it could contain only 12 passengers. The author notes he was the first person getting served a whiskey at 25,000 ft in a British transport airplane.

Two views of G-AGRC: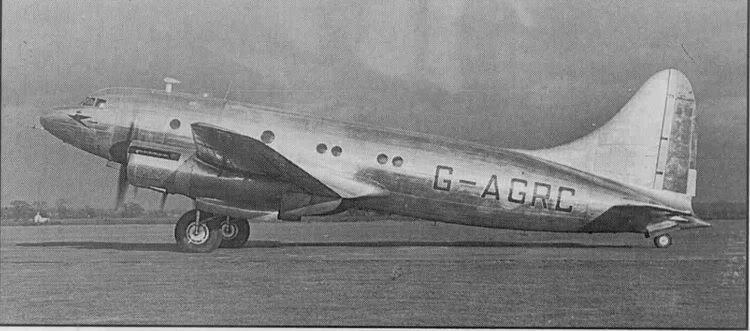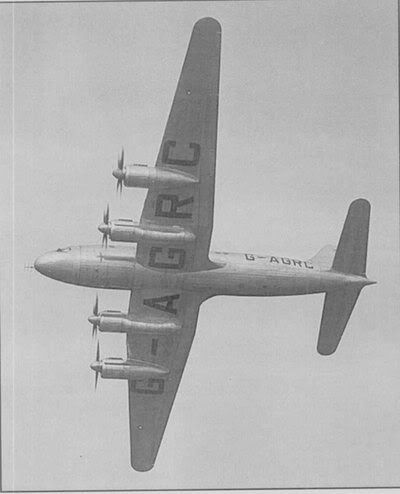 At that time, AVRO performance figures for the Tudor I were "Maximum all-out level speed 346 mph at 20,500 ft, maximum cruising speed 300 mph at 22,500 ft, sea-level rate-of-climb (78,000 lbs) 800 ft/min, service ceiling (4 engines) 28.000 ft, service ceiling (3 engines) 22.700 ft, range-payload 24-seat version 3,730 miles with 24 passengers, 50 lb of baggage each, and 3,300 lb of mail, range-payload 12-seat version 4.400 miles with 12 passengers, 100 lb of baggage each and 3.300 lb of freight".

G-AGRF, the fourth production airplane, was named Elizabeth of England by HRH Princess Elizabeth in a ceremony at London Heathrow Airport on January 21th, 1947, but the airplane never went into service with BOAC.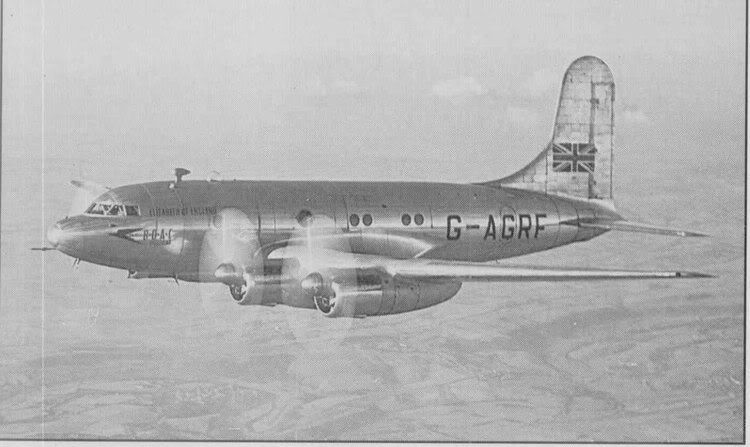 The Tudor I suffered a number of problems, including longitudinal and directional instability. This led to the fitting of a larger tailplane, and replacement of the finely curved fin and ruddr by extremely ugly bigger vertical surfaces. Pre-stall buffet was cured by modifying the wing-root filletsand extending the inboard engine nacelles. Various other shortcomings were revealed. BOAC added to the delays with more than 340 modifications, and finally the airline rejected the Tudor I on April 11th, 1947, judging it incapable of North Atlantic operations.
It had been intended that 12 Tudors would be built in Australia for military transport, but this plan was abandoned.
Twelve Tudor Is were built. Of these three were scrapped. G-AGRE became the prototype Tudor 4B, G-AGRF was converted to Tudor 4B, 'RG and 'RH became Tudor Freighter Is (later Super Trader 4 and 4B), 'RI and 'RJ went to Aviation Traders and were used by Air Charter, 'RK and 'RL went to the Ministery of Supply as TS874 and TS875 and were dismanteled in December 1950, and G-AGST was rebuilt as Tudor 4 and eventually became the Tudor 8. There is a table given below including all Tudors.

At this point, I have to do a break with the original sequence of the article. It continues in the sequence of Tudors in Roman numbers, but I would like to go on in a way to show which version was an AVRO 688, and which one a 689. The table mentioned above and given below shows, that Roman digits I, III, IV (mostly written in Arab as 4 and 4B) are 688s, II, V, VI and VII are 689s, VIII is basically a 688, but in my eyes a very different aircraft, so I put it to the end of my article again. Here, I now mention the digits III and IV first, before leaving for the 689.

Tudor III

Two Tudor I-sized aircraft, G-AIYA and G-AJKC, were sent to Armstrong Whitworth to be completed as luxury transports for Cabinet Ministers. They accomodated nine or ten passengers by day and had nine berths. They became VP301 an VP312, and both were acquired by Aviation Traders in September 1953, VP301 being re-converted into a Tudor I.
In 1955, G-AIYA and the Tudor I G-AGRG were lenghtened to Tudor IV standard. Together with the unlengthened Tudor I G-AGRI, which had become a 42-seat passenger aircraft, they were used on Colonial Coach Services between the UK, Tripoli and Lagos.

Tudor IV

To meet a BSAA (British South Atlantic Airways, RT) requirement, some of the Tudor Is were lenghtened by 5 ft 9 in and powered by 1,770 hp Merlin 621s and 1.760 hp Merlin 623s. With 32 seats and no flight engineer's position, these were known as Tudor 4s (IVs to Avro), and with flight engineer's position and 28 seats Tudor 4Bs. These conversions were covered by specification 28/46B and the first example, G-AHNJ Star Panther, first flew on April 9th, 1947. The Tudor 4 received its C of A (commitment of authorization? Help! RT) on July 18th, 1947, and on September 29th BSAA took delivery of its first airplane, G-AHNK Star Lion. The next day, under the command of D.C.T. Bennett, it left Heathrow on a proving flight to South America. On October 31st, Star Lion inaugurated Tudor services from London to Havana via Lisbon, the Azores, Bermuda and Nassau.

Tudor IV serial machine G-AHNN:




But in the night of January 29th to 30gth, 1948, Star Tiger G-AHNP with 31 people on board disappeared between the Azores and Bermuda (triangle! RT), and the type was temporarily grounded. Although the cause of the loss was not established, Tudors went back into service and on December 3rd, 1948, began operatinga weekly service London - Keflavik - Gander - Bermuda - Kingston - Barranquilla - Lima - Santiago - Buenos Aires, returning via the Azores instead of by the northern route.
One more disaster struck. G-AGRE, Star Ariel, disappered on January 17th, 1949, between Bermuda (triangle! RT) and Kingston, with the loss of 20 of its occupants, and Tudor was agian grounded. The subsequent fleet shortage led to the merger of BSAA with BOAC.

Being a favourite of supersensual events, I prefer the Bermuda Triangle as reason. However, Norman Ridell, RAF veteran and BSAA Flight Captain, doesn't. He points on structural flaws within the (changed) tail section. See this link: http://www.far-easte..._adventure.htm

I (Mr. Stroud, RT) believe that the cause of the Tudor losses was never established, but pressurization problems were suspected, and the remaining aircraft were flown as unpressurized freighters under the designations Tudor Freighter 4 and 4B.
Sharing of the Tudor 4 within the Berlin Airlift see Tudor V. Of the 13 Tudor 4s built, 8 were acquired by Aviation Traders at the beginning of September 1953. G-AGRH, -AHNI, 'NM and 'NO were given 6 ft 10 in x 5 ft 5 in cargo doors aft on the port side. These were designated Super Trades 4 or 4B, and received their C of A in March 1955. Some remained in service until 1959. This year, on April 23th, G-AGRH Zephyr suffered the last spectacular Tudor crash on its way to Australia, in a mountaineous and nearly inaccessible region in Turkey. Because it probably carried classified material, the wreck was subsequently object of a complicated salvaging action.

See this lenghty link for details: http://www.rafmounta...d Chapter 5.htm



AVRO 689


Tudor II

I cannot quote it exactly, but to me it seems that the passenger capacity of the AVRO 688 from the beginning was considerd unsatisfactory, so a bigger version was in planning from the very start. Bearing the AVRO type number 689 and also known as AVRO XXI, the Tudor II was designed as 60-passenger plane for the BOAC. It was essentially the same as the Tudor I, but the fuselage diameter was increased from 10 to 11 ft and the overall lenght was 105 ft 7 in compared with the Tudor Is 79 ft 6 in.
Towards the end of 1944, while the aircraft was still in the design stage, BOAC, Quantas, and South African Airways decided to standardize on the type for Commonwealth routes, and the original BOAC order for 30 was increased to 79. However, none of the airlines operated Tudors, and nor did the BEA operate the type 699 version (short-range, RT) planned for it. The prototype, G-AGSU, first flew on March 10th, 1946, with Rolls-Royce Merlin 102s and the curved vertical tail surfaces originally used on the Tudor Is.

Tudor II prototype G-AGSU with original tailfin:




The airplane went to Boscombe Down for its certification trials, and the engines were changed to 1,740 hp Merlin 600As. The trials showed up problems similar to those encounterd with the Tudor I, and G-AGSU was returned to AVRO for extension of the inboard engine nacelles and fitting of the larger fin and rudder. Increased weight owing to the bigger fuselage and the other necessary modifications reduced performance so much that the type could only operate Eastern routes as far as Calcutta and the African routes not beyond Nairobi. Quantas and South African Airways could not use the Tudor II, and the order was cut back to 50 aircraft.

Tudor II prototype G-AGSU with changed tailfin: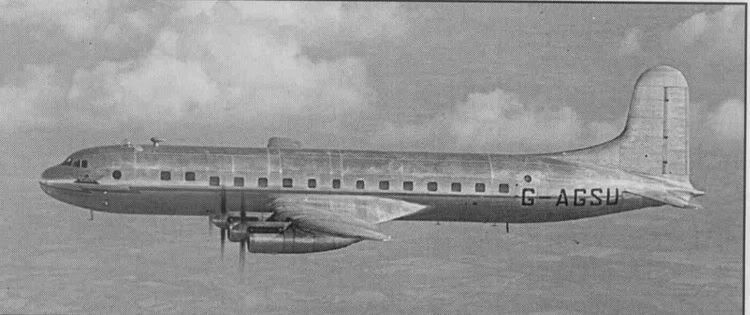 G-AGSU crashed just after take-off on August 23th, 1947. Among the casualtiess there was nobody less than Roy Chadwick, AVRO chief designer and praised constructor of the Lancaster, and AVRO chief test pilot Bill Thorn. No design flaws were reasons of the accident, but an incorrectly mounted aileron control, setting it into the reverse direction than intended.

Read about Roy Chadwick in this link: http://www.suchiu.co...er_history.htm

An undated AVRO leaflet on the Tudor II - but showing it with the original tail unit - quoted the following performance figures: "Maximum all-out level speed 330 mph at 20,500 ft, maximum cruising speed 285 mph at 22,500 ft, sea-level rate-of-climb (80,000 lbs) 870 ft/min, service ceiling (4 engines) 28,600 ft, service ceiling (3 engines) 22,400 ft, range-payload 2,000 miles with 60 passengers and baggage, 2,600 miles with 40 passengers and baggage, and 1,000 miles with 9 tons of freight". The same leaflet contained a cutaway drawing, showing the layout for 40 passengers or 22 in sleeping berths. This was desribed as the BOAC layout.

What you see here is the main cabin of a Tudor II: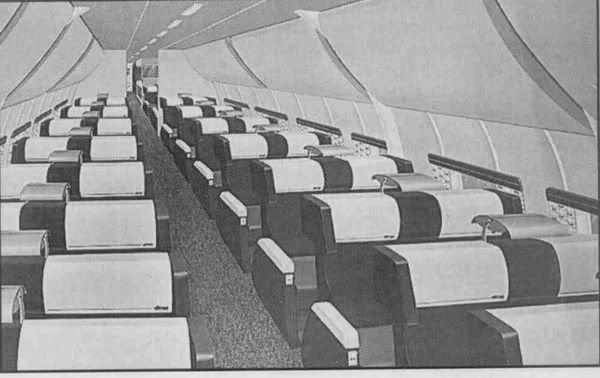 The second Tudor II completed, G-AGRY, went to Nairobi for tropical trials as VX202, but these were considered unsatisfactory and Tudor II orders were then reduced to 18. These should have been produced as two Tudor IIs for experimantal work, ten with nosewheel undercarriage as Type 711A traders to specification 23/48, and six as Tudor Vs to meet BSAA requirements and covered by specification 39/46.

G-AGSV, which was intended to be the 711A prototype, was not completed. G-AGRY received a C of A in September 1948, went to Airflight and was later used by Fairflight and Air Charter before being scrapped in July 1959. G-AGRZ went to Flirht Refuelling and later to Aviation Traders, and G-AGSA was lent to Rolls-Royce. Including the prototype, only four Tudor IIs were completed.
However, the six Tudor Vs were built and we continue with their story.


Tudor V

The Tudor V was a moification of the Tudor II, specification see above, with 44 seats. BSAA acquired five powered by 1,770 hp Merlin 621s. However, these aircraft never went into passenger service with this airline. Instead, they were stripped of furnishing and were used as fuel tankers on the Berlin Airlift. The first example, G-AKBY, of airline Airflight, as well as BSAA's G-AKBZ, 'CA, 'CB, 'CD and 'CD, together with BSAA's Tudor 4s G-AGRH and G-AGRJ, were on the way through Soviet-controlled airspace and back. BSAA statistics mention 2,562 sorties in 6,973 hours, carrying 22,125 tons of fuel into the besieged city.
Ill fate returned when G-AKBY, still operate by Airflight and now in passenger sevice, crashed at Llandow in Wales on March 12th, 1950, killing 80 of its occupants, Welsh rugby supporters. The aircraft was returning from Dublin, where the Welsh team just had won the Triple Crown. The accident was considered worst aviation desaster at this point of time. There are two very interesting links about the theme, one from the South Welsh Police Museum:

http://www.south-wal...8&n2=253&n3=689

and one from the Aviation Safety Net, giving a reason for the crash:

http://aviation-safe...p?id=19500312-0

G-AKCA was sold to Surrey Flying Services, and then loaned to Lome Airways in Canada as CF-FCY. G-AKCC and 'CD went to William Dempster and were converted to 52-seaters for London-Johannesburg tourist flights. G-AKCC was named President Kruger, but was damaged beyond repair at Bovingdon on October 26th, 1951, after which 'CD was used for spares.


Tudor VI

This version was mentioned to be built for the Argentinian airline FAMA (Flota Aerea Mercante Argentina) for services across the South Atlantic, with 32- 38 seats for daytime or 22 sleeping berths. None was built.


Tudor VII

One example, G-AGRX, was built. This was the first production Tudor II, powered by 1.750 hp Bristol Hercules 120 air-cooled radials in an attempt to give the Tudor II more satisfactory performance. It first flew on April 17th, 1946, and appeared at this year's SBAC (??, RT) display at Radlett. In June 1948, this aircraft was fitted with a shorter undercarriage, and the engines were inclined to provide greater ground clearance for the propellers.




The Tudor VII was used for cabin temperature trials, passed on to the Telecommunictions Research Establishment as VX199 and then went to Flight Refuelling in November 1953 under its civil registration. In March 1954, it was acquired by Aviation Traders for spares.

See the end section far down below because of picture limitation (08/04/2013)