I am glad that I again found time to create another GOT topic. This time our theme is the Curtiss A-18 attacker experimental from the thirties. It is fairly well described on the net, I mostly quote the US Air Force Museum Virtual Aircraft Gallery. The first step to development was the

XA-14,

a private Curtiss project to replace its A-12 single-engined assault airplane.

http://www.nationalm...eet.asp?id=2918


The aircraft showed superior speed performances from the beginning, so I would have preferred to see it in the heavy fighter rsp. "destroyer" role. Little is known that efforts were made truly to create an attacker from this swift plane, by employing a 37mm cannon, now calling the aircraft

YA-14
http://www.nationalm...eet.asp?id=2919

Although this picture can be seen using the link above, I think it's o.k. to repeat it here because the sight of the cannon is really impressive:




Thirteen test samples of the XA-14 were ordered, and because of an engine improvement (Wright R-1820-47 "Cyclone" instead of Wright R-1670-5 "Whirlwind"), the aircraft was redesignated

Y1A-18

http://www.nationalm...eet.asp?id=2929

Unfortunately, no serial production order followed, because the aircraft was considered too expensive for its intended role. After testing, the Y1A-18s lost a letter and a digit and became

A-18s

http://www.nationalm...eet.asp?id=2930

The A-18s have to be seen as consideration samples for succeeding aircrafts like the Douglas A-20. They were used as bomber trainers on Lawson field. The last A-18 went out of service in 1943.

http://www.joebaughe...attack/a18.html


There are two strands still open:

- it is said the A-18 influenced the development of the Kawasaki Ki-45, which looks fairly similar

- some sources say at least one A-18 was sent to Australia.

Any further information about the upper two questions are welcome.


I would like to have seen the A-18 in combat, although its assumed influence on the early stage of the air war in the Pacific is questionable. At least, the US would have had a Lightning before the Lightning. To end here, I would like to show you some fine pictures, among these the only one I know until now of the A-18 in colour: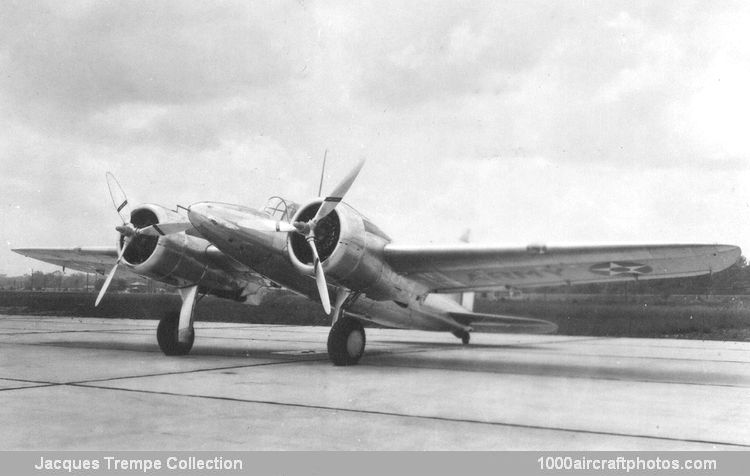 And its windshield is too steep, that's what I also don't like on many Miles aircraft!