I have been thinking about starting this topic for a long time now. I just
never seem to have the time to make a proper list. I am always researching
this fighter's timeline or that fighter's performance abilities. I am constantly
looking for more information to post on the AIRCRAFT PERFORMANCE
section.
Well I finally figured the only way to get this started is to go back to the
the time where my library started and let others take over. As time permits
I will add more of what I have in my library.
I became infatuated with WW2 fighter aircraft as a very young lad. In
1968 at the age of 16 I finally had a decent job (picking peaches for a farmer)
and was able to save up about $4.00. My parents took me to a near by city
that had a shopping center with a bookstore in it. I bought my first real
reference book; War Planes of the Second World War, Fighters Vol.4 by
William Green 1961 version.
I am currently looking at it right now. Most of the dust cover is gone, the
binding has pulled away from most of the pages and the book is in about
5 or 6 different sections at least (I'm afraid to try to separate and count
them.
In this series of books I eventually purchased Volume 1, 2, 3 & 4,
Those were the fighters. Volume 5 is Flying Boats. Volume 6 is Floatplanes
Volume 7, 8 & 10 are Bombers and Reconnaissance Aircraft. Volume 9
never came my way and I didn't pursue looking because it was bombers.
I also eventually picked up Vol.3 of WW1 Fighters but that didn't really
count toward the cause.
Volume 9 in the series I never owned: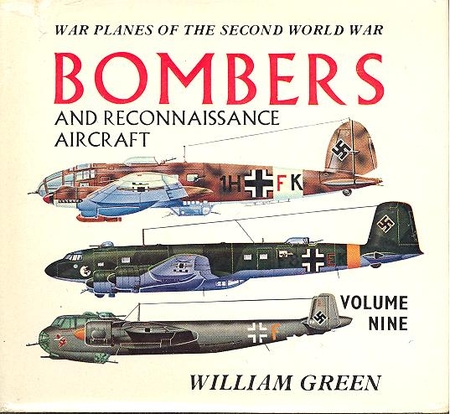 I'll post more later when I get a chance. I am counting on everyone
else to keep this thread going if the interest is there.
I am looking forward
to seeing what everyone has in their library's. Information from them could
prove useful to us all. I hope everyone enjoys this opportunity and joins in.
Remember, every little bit is a help. Have fun Guys.
Goodnight Guys, Jeff
Edited by CORSNING, 09 February 2017 - 09:22 PM.