For everybody new here, last November our good friend GregP made a list of "obscure types", hoping to get more information about these. Although only using beginning letters A-D, the list was very long. Not minding this, me (and others) tried to work it down, marking the topic with "GOT" as "Greg's Obscure Types. He also included the Ambrosini products SS.4, SAI 107, SAI 207 and SAI 403. When recently the microfighter became thematized, I thought to renew the "GOT" series, which I couldn't follow for some time, with a topic about them (The SS.4 is only scarcely mentioned, sorry). There are two good articles on the net about them, one in comandosupremo.com, the other by Ton Meynders in airwarefareforum.com. Ton also provided some pictures. Are both articles worth mentioning? Sure. I thought it would be a quality step to interweave them, combined with processed pictures. This I did below.
For the postwar developments of Ambrosini, I use texts from my (German) airplane encyclopedia (Flugzeuge der Welt, publishing house Bechtermünz, Augsburg 1997).



The possibilities of a lightweight fighter which could be produced inexpensively and in vast quantity have intrigued combat aircraft designers for many years, and numerous attempts have been made to perfect such a machine. In the past these efforts have invariably resulted in aircraft possessing inferior performances to their more orthodox contemporaries, but among the very few exceptions were the delightful little fighters which stemmed from the drawing board of Sergio Stefanutti during the war years.
Chief designer of the Societa Aeronautica Italiana Ing. A. Ambrosini of Passignano, Stefanutti first conceived an interest in the potentialities of a light-weight fighter in 1939 when working on a heavy and obviously under-powered canard fighter, the S.S.4.

(decided to concentrate pictures below, 2013/08/07, RT)


Previously responsible for a series of cabin mono-planes which were noteworthy for their clean contours and good performances, concerning their modest power.

Between 10/38 and 4/39, Sergio Stefanutti designed the SAI.7 as a high-performance touring plane for the civil market. Undoubtedly one of the best looking aircraft ever designed, the SAI.7 possessed exceptionally clean lines, was of wooden construction with plywood skin. The SAI.7 was the first Ambrosini airplane with retractable landing gear, in this instance of the fully-retractable tailwheel type with wide-track main units that swung inward and upward into the roots of the cantilever low-set wing. The first two aircraft were completed in 7/39 with a windscreen design that extended right to the nose for a very clean entry, and were entered in the Avio Raduno del Littorio competition that started a few days after the machines made their maiden flights. The aircraft were too under developed to win the competition, but nonetheless put in a very credible performance that included a maximum speed of 251 mph with a 280 hp air-cooled Hirth HM 508D inverted-Vee engine. One aircraft took a class closed-circuit speed record for a F.A.I. category I plane over 61.2 miles (100 km) with a speed of 244 mph.





The high speed/power ratio of the SAI.7 caught the imagination of the Italian air force which saw considerable possibilities in the concept of a lightweight interceptor that could be built in large numbers without drawing on the country's strategic stockpile of aluminum alloys. Although the type had originally been designed as a fast racing and touring aircraft, its flight characteristics were such that it was readily adaptable for use as a fighter trainer. Accordingly, Stefanutti redesigned the monoplane to fulfil this role, and a fully militarised second prototype appeared in 1941. Differing from the original prototype in having orthodox cockpit canopy for pilot and pupil, and the German Hirth engine replaced by R 280 h.p. Isotta-Fraschini Beta R.C.10 inverted-Vee engine. The fuselage and wingspan were increased and the faired racing windscreen was replaced by a conventional stepped windscreen at the front of a more heavily framed cockpit enclosure with two rearward sliding sections for access, and the landing gear was modified with a fixed tailwheel. These changes increased the maximum take-off weight, but the maximum speed was reduced only slightly to 248.5 mph.





The S.A.I.7 trainer evoked enthusiastic reports from Regia Aeronautica test pilots, but by the time the first of an eventual 10 SAI.7 fighter trainers appeared, the increasingly difficult military position in which Italy found itself was reflected in the emphasis on combat aircraft rather than trainers; and so further work on the fighter trainer variant was abandoned until after the war when it was revived and led to the S.7 and Supersette trainers (see pictures on the end of this article).

While the military S.A.I.7 had been under construction, its designer was working on a more powerful single seat variant which, primarily intended for research purposes, was also considered as an ideal test vehicle for the development of the basic design as a combat aircraft. Designated S.A.I.107, the single-seater (photo four) was powered by a 540 hp. lsotta-Fraschini Gamma RC.35 IS inverted-Vee engine driving a two bladed propeller, and, weighing only 2,200 pounds loaded, was flown early in 1942.





The S.A.I.107 proved to be extremely manoeuvrable, and level speeds in the vicinity of 350 m.p.h. were obtained during flight trials at the Guidonia Test-Centre. Assured of the feasibility of his proposals, Stefanutti then produced a second single-seat prototype, the S.A.I.207, which was built to full fighter requirements and carried an armament of two 20-mm. cannon and two 12.7-mm.. machine guns. The S.A.I.207 was externally very similar to its predecessor, but employed a 750 h.p. Isotta-Fraschini Delta RC.40 engine driving a three-bladed propeller.
The S.A.I.207 had a wing span and length of 29 ft. 6 in. and 26 ft. 3 1/2 in. respectively, and its loaded weight was 4,993 lb.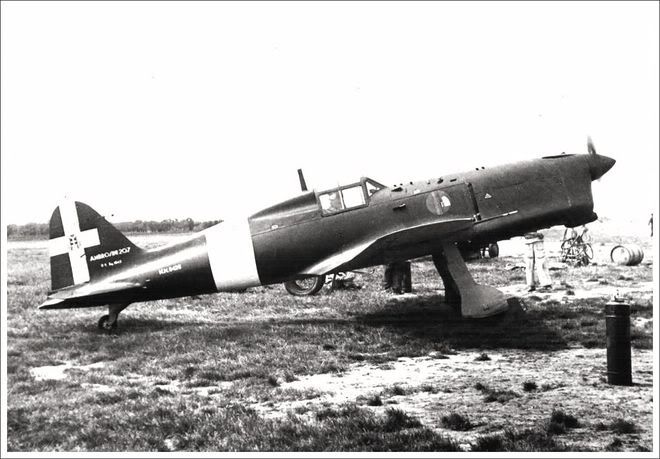 Extensive flight testing was undertaken, during which the fighter attained an indicated air speed of 466 m.p.h., at 10,000 feet in a dive (representing a true air speed of 596 m.p.h., or Mach 0.86). Maximum level speed was 357 m.p.h. and range was 528 miles, remarkable achievements on an engine of only 750 h.p. The photo below shows the S.A.I. Ambrosini test pilot preparing to take-off for the flight during which this remarkable performance was clocked.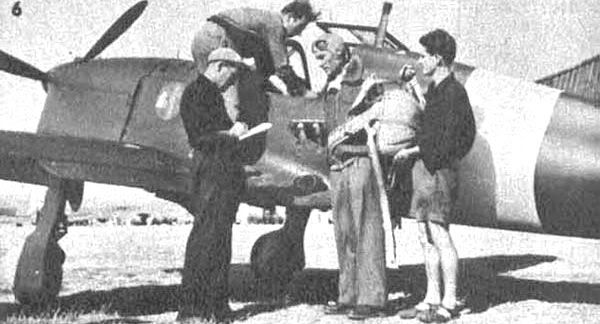 The Italian air ministry ordered Ambrosini to begin work on a pre-production batch and placed an order for 2,000 production aircraft. In the event only 13 of the pre-production aircraft were completed, three of them being allocated to the 3rd Stormo Caccia Terrestre during 7/43 for operational trials. Italy secured an armistice with the Allies just two months later.

While tests were progressing with the S.A.I.207, Stefanutti redesigned the fighter for production, the final model being designated S.A.I.403 Dardo (Arrow). This essentially was a more sophisticated version of the SAI.207 with the same type of stressed-skin wooden construction, but which had fully retractable landing gear rather than the 207's combination of retractable main gear and fixed tailwheel. The S.A.I.403 carried the same armament as the S.A.I.207, and its Delta R.C.21/60 engine gave the same power. Wing area was increased from 149.618 sq. ft. to 155.646 sq. ft.. In addition, changes included a revised tail unit with a variable-incidence tailplane to improve controllability in high-speed dives, greater ammunition capacities, and an upgraded powerplant in the form of the 750 hp Isotta-Fraschini Delta RC.21/60 Serie I-IV driving a three-bladed Piaggio constant-speed propeller.





The first SAI.403 flew late in 1942 (other source says early 1943) and revealed exceptional performance, including a maximum speed of 404 mph at 23,620 ft. The estimated maximum range was 582 miles. Loaded weight was 5,280 pounds and overall dimensions included a span and length of 32 ft. 2 in. and 26 ft. 10 in. respectively.

The three variants of the SAI.403 planned were the Dardo-A lightweight interceptor with armament restricted to two 12.7mm machine guns, the Dardo-B general-purpose fighter with two 20mm cannon and two 12.7mm machine guns, and the Dardo-C long-range fighter with 2 20mm cannon and provision for two 39.6 US gallon drop tanks supplementing the internal fuel capacity from the 79.25 US gallon of the Dardo A/B to 108.3 US gallon. Large-scale production of the S.A.I.403 was planned, thus terminating the SAI.207 in favor of 3,000 of the SAI.403 to be produced. None of these fighters had been delivered before the Italian armistice with the Allies and the closing of the program, and further development had to be abandoned.
Despite the remarkable performances attained by these light-weight fighters-which might well be considered as the only practical piston-engined machines in their class ever developed -they achieved little fame, either in the country of their origin or abroad. It is particularly interesting to note that from their design has stemmed the Aerfer Ariete lightweight jet-fighter.

(End of the articles)

The majority of the 145 copies of the post-war Ambrosini S.7s, a lot of single-seaters among them, served in the different aviation shools of the Aeronautica Militare. Besides the military use, which ended in 1956, the S.7 received honour in a number of air races. On December 21st, 1951, Leonardo Bonzi won records on the 100 km and 1000 km distance, flying an average speed of 367.36 rsp. 358.63 kph.

Post-war Ambrosini S.7: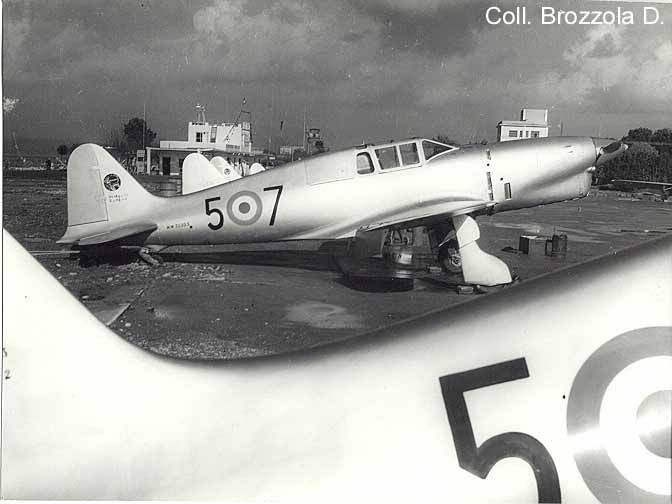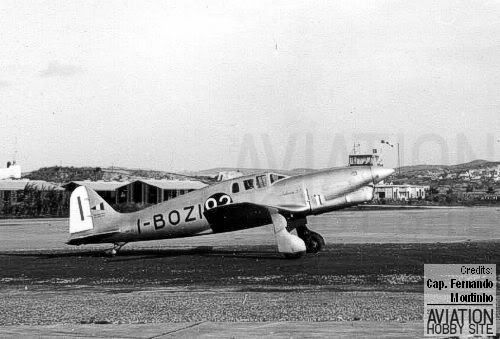 While the post-war S.7 was powered by an Alfa-Romeo-115 inline engine delivering 225 hp, an upgraded version appeared in 1952, the S.7 Supersette, driven by a De Havilland Gipsy Queen of 355 hp. One received swept wings as part of the development program for the jet fighter Aerfer Sagittario.

Pictures of the Supersette (Super-Seven):
On the same occasion like the "7" above, on advertising tour (for own pupose) in Portugal: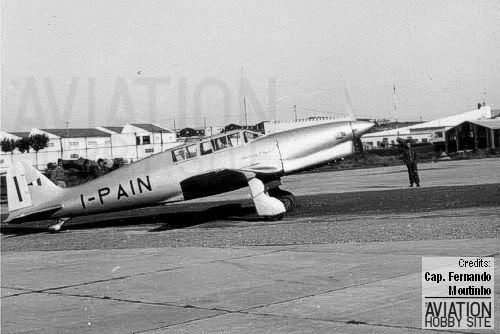 During its time, the Supersette was called "most beautiful airplane of the world" (I agree). The I-PAIN survived, it is shown in the Technical Museum in Milan.

In the Air Force Museum of Vigna di Valle, under the wings of a CANT Z.506:
(old picture disappeared, better solution coming soon, 2013/08/07, RT)
The cowling changed, no optical win in my eyes. For balance, the picture is very good.


The fist version of the Sagittario jet fighter still shows the characteristic fuselage and cockpit silhouette of the piston-driven Ambrosinis:

http://img.photobuck...no/20afc0b5.jpg (photobucket disaster, see better below, 2013/08/07, RT)