When Greg has a well-known aircraft on his list of obscurities, it is the question if a GOT topic about it can be more useful than the sources you can google on the net. Eventually, the Caproni-Campini CC.2 (some say, this designation is wrong and "N.1" would be correct) is well documented, also in English language, and you can find everything also without my help. But the advantage of a GOT topic is that you can get everything necessary on one click, the sources were compared, contradictions are already tried to be cleared and the layout is to sort everything in an understandable and entertaining way. I think I should do this if just setting some links seems not to be sufficient, and this is the case for this plane.

I chose one main source, see link below. The text is not shortened, but rearranged. Another source is http://warandgame.wo...campini-ni-cc2/, where a contributor who calls himself *critcalmass* does some interesting remarks. These are inserted below. Now, let's start with

The Caproni-Campini CC.2

Main source: http://www.museoscie...reo/caproni.asp
Texts by Aldo Curti - Editing by Giuliano Gaia
We gratefully acknowledge the technical assistance of Ing. Mario Mantero.

One of the World's Earliest Jets
Not everybody really knows that Italy was the world's second country to launch a jet after Germany. That jet was the Campini-Caproni CC-2, of which the Milan Museum of Science houses the fuselage for static tests, and the engine. A complete aircraft of this type is preserved at the Aeronautical Museum of Vigna di Valle in the Rome area.


Ing. Campini
Soon after graduating from university in 1929, Bologna-born Ing. Secondo Campini set about studying jet propulsion, and published an article in the periodical, Rivista Aeronautica, on its prospective application to aeronautics. In 1931, Ing. Campini submitted a report on his propulsion system to the Italian Air Ministry. In the same year, he founded the V.E.N.A.R. (jet aircraft and watercraft) company, which was the world's first reaction engine manufacturer. Again in 1931, thanks to the support given by the Milan Riva company, he built the world's first motorboat propelled by water-jet drive. Water was collected and piped to a centrifugal pump featuring a double-throw spiral. The pump, which was driven by a 9 hp Isotta Fraschini engine, directed water through two adjustable needle nozzles, which could then be used as a helm. This motorboat attained the speed of over 28 knots in Venice, where it was tested in 1932.

On 5 February, 1934, the Italian Air Ministry and Ing. Campini signed a contract to build two jets and one fuselage for static tests. As the company of Ing. Campini did not have the means to implement its designs, it affiliated with the Caproni company of Taliedo. But the former was solely responsible for the supervision of the work for the plan and construction of the aircraft. Tests led Ing. Campini to work on a United States patent in order to make another jet, which unfortunately was never built. The 31st/12/1936 deadline set for the submission of the prototypes was missed because of technical difficulties and rising costs. This led the Air deputy-minister, Mr. Valle, to grant an extension. So it was that a fuselage for static and engine tests - which is now housed at the Milan Museum of Science - was completed. This fuselage provided static thrust for 700 kg. Two prototypes nos. M.M.487 and M.M.488 of the Campini-Caproni CC-2 aircraft were then made.

Technical Specifications
The Campini Caproni CC.2 aircraft is a single-propelled, tandem, two-seat, low-wing monoplane of all-duralumin construction.The wings are elliptical in plan. Other features include a pressurized cabin for altitude flight. The undercarriage is of the retractable type, the wheels rotating outwards during retraction into the wing thickness. The tail wheel retracts into dedicated fairing. The fuselage is of circular section structure. The rear section accommodates the exhaust pipe, complete with a cone for directing the flow of gases.

Fine drawings from drawings.jexiste.fr: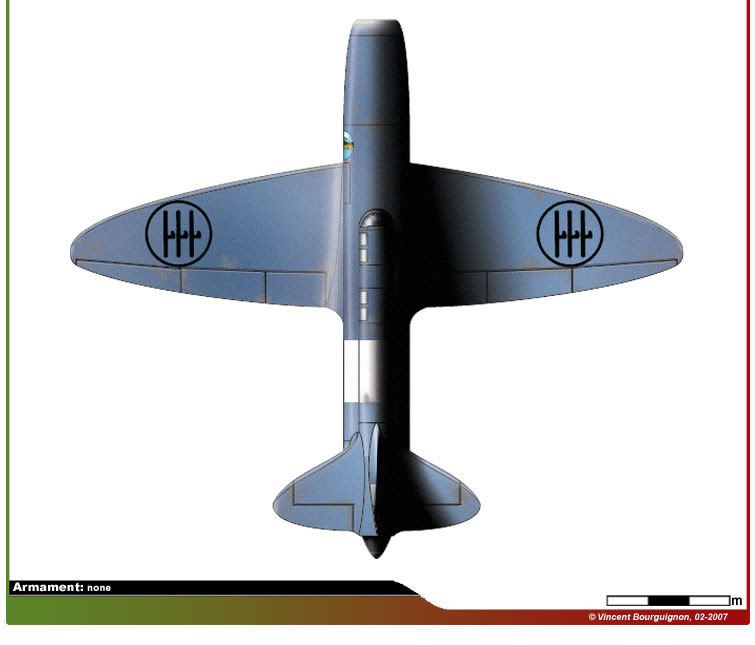 Other Data
Ducted fan with three rotors, of which two are rotating, and one is fixed (a "fixed rotor" is a contradiction within itself, RT); burners provide 700 kg thrust; engine of the compressor, 900 hp Isotta Fraschini L. 121/R.C. 40; length, 12.10 m; height, 4.70 m; span, 14.63 m; wing area, 36 sq m; weight empty, 3,640 kg; total weight, 4,217 kg; useful load, 577 kg; maximum speed at an altitude of 3,000 m without burner, 325 km/h; maximum speed at an altitude of 3,000 m with burner, 359.5 km/h; climb, 1,000 m in 9 min. (with burner); maximum altitude attained in the course of acceptance flight tests, 4,000 m.


The Engine of the CC-2 Aircraft
Like a gun, which 'reacts' with a quick backward movement (i.e. the recoil) when a projectile is shot forward at high speed, a jet engine derives its thrust by reaction to its high-speed ejection of combustion products, and by the expansion of heated air, which is pushed out at a higher speed than when the air is drawn in. (After all, ordinary propellers work in a similar way. They accelerate backwards the air mass that moves through their rotating blades.) These introductory remarks are meant to help our visitors gain an insight into the workings of Ing. Campini's thermojet. It is, in effect, to be considered more as a hybrid than as a jet engine proper. An internal combustion engine characterized by reciprocating motion of pistons in its cylinder - in our case, a 900 hp Isotta Fraschini L. 121/R.C. 40 engine - drove a compressor incorporating 2 ducted propellers and a propeller designed to direct the flow and minimize the breakdown of the smooth airflow. A ring of injectors (i.e. the burners) introduced kerosine, whose combustion increased the volume of the thermojet and the exhaust velocity.

*critcalmass* completes:
A ducted propeller worked as an air compressor pumping fresh air in a Venturi duct: the injection of fuel worked as the first afterburners used on F-100 Super Sabre during 1950#8217;s. There were not annular combustion chambers and the ducted propeller was unable to change hydraulically the inclination of the blades (pitch). Also the jet exhaust had no flux adjustment by changing the outer diameter of the outlet, like it happens on modern jets. These were the reasons of the too long venturi duct crossing the fuselage. (end *critcalmass*)

First two of the following drawings included in the main source.
Functional scheme of the Campini concept:




Junkers Jumo 004 axial jet engine for comparison:




Position of the powerplant within the fuselage (from br.geocities.com):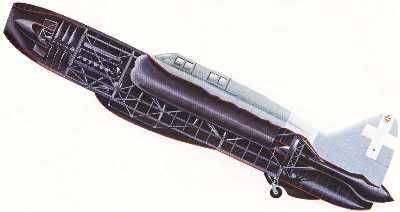 Said to be the Isotta Fraschini L. 121/R.C. 40 engine. [According to Dogwalker (see below), this is an Isotta-Fraschini Asso 750].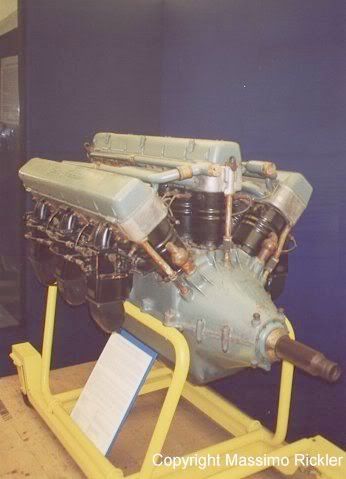 In sources wrongly referred as radial, doubtfully as "V". How can you describe this? Three-row pitchfork?


The CC-2 Aircraft Flies!
On 27 August, 1940, the first prototype was tested for 10 minutes over the Taliedo airfield by the great pilot, Mario De Bernardi (Schneider Trophy winner of 1926, RT). On 16 September that same year it was flown for another 5 minutes, thus undergoing the acceptance flight test in order that the second prototype was upgraded. The latter made its maiden flight on 11 April, 1941. On 30 November, 1941, at 2:47 pm, Mario De Bernardi and Ing. Giovanni Pedace flew the second prototype on an official flight from the airport of Milan Linate and that of Rome Guidonia. After flying over Pisa, they landed at 4:58 pm after covering 475.554 km at the average speed of 217.147 km/h. According to the pilot's wish, the afterburner was never actuated in order to save fuel.

The flight was a tremendous success, so much so that Mussolini personally complimented De Bernardi, and low-altitude flights were made over Rome, preceded by announcements repeatedly broacast by radio (if I had been a Roman of this time, I admit I must have had a very stiff neck..., RT[8D]). The event took the world by storm, and no less than 33 countries congratulated the Italian government. These flights were recognized by the F.A.I. (Fédération Aéronautique Internationale) to be the first ever made by a jet. Truth to tell, the plan conceived by the German, Hans von Ohain, and the Heinkel group, whereby the extraordinary He.178 aircraft was flown precisely a year before, on 27th August, 1939, had been kept secret.

Inflight. From finn.it: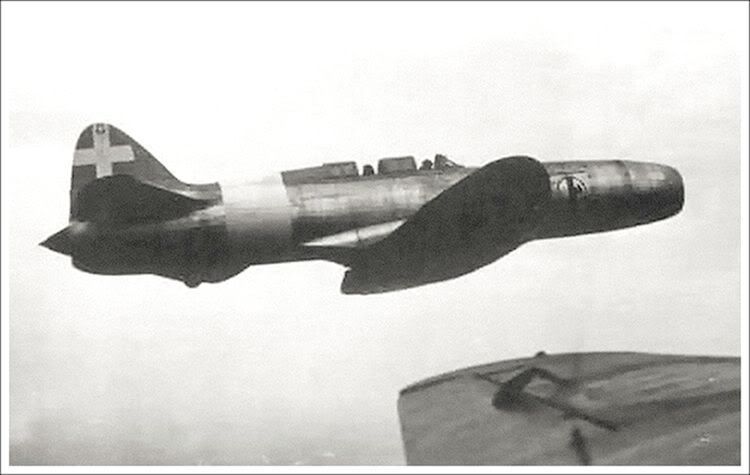 Inflight. From fronta.cz



Ground, a general (left side) is interested. From finn.it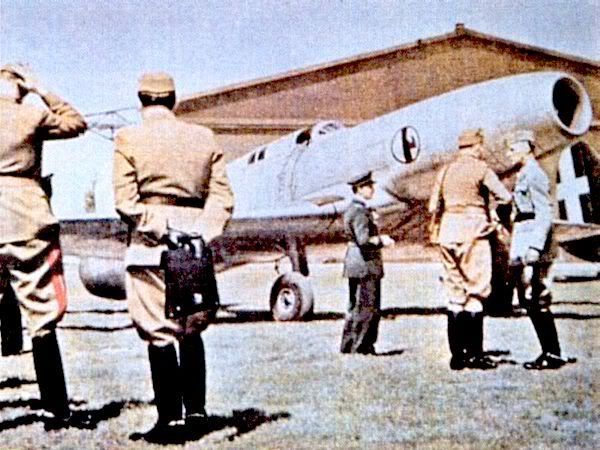 (Separated into two articles because of picture limitation. Continue reading in my posting from 07/31/2013. Sorry for inconvenience, RT)