This time again we look upon machines with a very short career, thus creating a comparedly easy-to-write GOT topic. Text from samoloty.ow.pl, translation using www.poltran.com, with satisfying performance. Links are given at the end of the single parts, technical data and sources included. Responsibility for errors and misunderstandings is by myself alone.


Type 146

During the Thirties of last century, there was a period when aircraft construction caused a generalization of technical solutions, like the monoplane, retractable undercarriage, closed cabin, metal construction and mechanized, automatically changeable wing geometry. All these inventions, connected with powerful engines, allowed to build aircraft representing a qualitative jump in relation to their precursors. In 1934, the British Air Ministry issued the specification for a new single-engine-single-seat fighter to replace the contemporary Gloster "Gauntlet" and "Gladiator" as well as the Hawker "Fury" and "Demon" biplane fighters.

The specification was only in general, but very ambitious due to the technical level of that year. Among others, the demanded maximum speed at a height of 4572 m was 442 km/h, and 426 km/h at a height of 6096 m, an operational ceiling of 10058 m and a flight duration of 90 minutes. The new aircraft had to be single-seated, with closed cabin, retractable undercarriage and had to have an armament of six to eight barrels with a stockpile of 300 cartridges each, to allow to lead fire by 15 seconds.

Eight competitive projects of fighter aircraft responded to that specification. They were Bristol (type 146), Fairey, Gloster (F 5/34), Martin-Baker (MB-2), Vickers (type 279 "Venom"),

Picture #1: Competitor Vickers "Venom"




Westland, as well as late by a certain degree Hawker (Hurricane) and Supermarine (Spitfire). All were cantilever low-wing monoplanes, had closed cabins and with one exception retractable undercarriages.

The new project of the Bristol aircraft firm based on the earliest fighter design of this kind this brand had undertaken, the type 133. It was an entirely metal construction - only rudders were covered with fabric, the pilot's cabin was closed and the three-point undercarriage except the fixed tailwheel was retractable. The wing geometry was rectangular towards the centerplane and the outer sections were a bit lifted.

Picture 2: Predecessor Bristol Type 133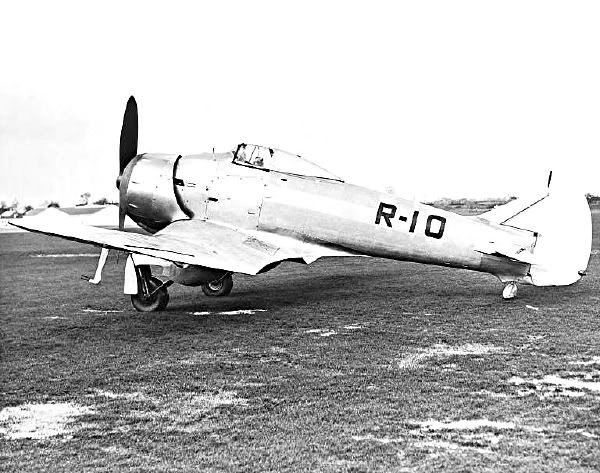 Initially, the aircraft was driven by a Bristol "Perseus" radial engine, but later it got the soundest engine for that purpose, the Bristol "Mercury IX".

Low priority caused the prototype 146, wearing the military index K5119, only to be finished at the turn of 1937 to 1938. On February 11th, 1938, it had its maiden flight under the control of test pilot Cyril F. Uwins.

Picture #3: Bristol 146 "K5119"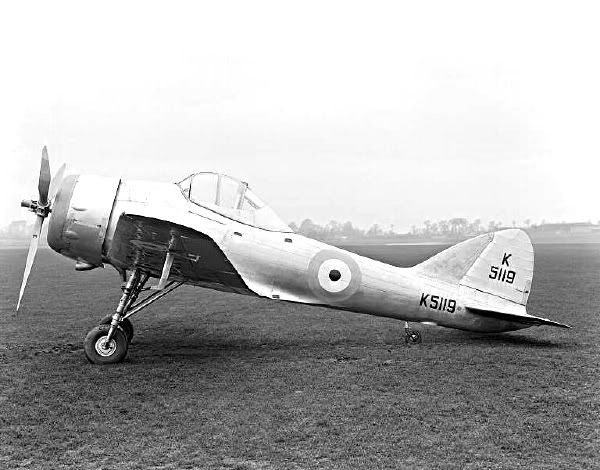 Test flights at the RAF Aeroplane & Armament Experimental Establishment (A&AEE) in Martlesham Heath followed, but after an accident the aircraft was scrapped. A second prototype, registrated as K8088, was already finished.

While competitive fighters of that time, like Hurricane and Spitfire, showed considerably better performances and were already produced in series, Bristol resigned from further development of the type 146. However, the general design process bore advantages for the next Bristol projects, the two-seat fighter type 147, the army cooperation plane type 148 and the single seat fighter types 151 and 153.

Source: http://www.samoloty.ow.pl/str120.htm (off and gone)



Type 148

In 1935, the British Air Ministry issued the specification A.39/34 for a modern single-engined two-seat army cooperation aircraft to substitute the contemporary biplanes Hawker "Audax" and "Hector". First of all, the aircraft had to serve as short-range reconnoisater, to observe the battlefield and to guide the fire of the artillery, but, if necessary, also to support the ground troops by dropping light bombs and by gunfire.

The maximum speed so desired was 418 km/h, the landing speed not more than 80,5 km/h and a bomb load of 227 kg was intended. Among others, good maneuvering characteristics at slow speeds were demanded, perfect visibility for the crew, capability of take-off and land on small frontline airfields as well as the chance for dive-bombing. Besides this, the aircraft had to be armed with two fixed guns. Six British aircraft firms presented projects in answer to the specifications, they were Avro (type 670), Boulton-Paul (P.81), Bristol (type 148), Cierva ("Gyroplane"), Hawker (probably with the "Henley", RT), and Westland (P.8, later known as "Lysander").

The aircraft type 148 was designed in the Bristol plants by engineer Frank Barnwell. He presented a modification of the earlier projects type 133 and 146 and the two-seater type 147. It was a closed-cabin single-engine cantilever low-wing construction with a retractable three-point undercarriage, but the tailwheel was fixed. The wings with there rounded ends could be equipped with automatically operating slots and flaps. Space for wireless station and cameras was foreseen in the fuselage. Two fixed machine guns of caliber 7,7 mm were both installed in the left wing only, and for small bombs there were clinches under the wings. One movable rifle of caliber 7,7 mm was to serve for self-defense in a reverse shooting position in the observer's station. For to drive the machine, the 9-cylinder radial engine Bristol "Mercury IX", delivering 656 kw (880 hp), was chosen.

In June 1935, two 148 prototypes, registrated under the indexes K6551 and K6552, were ordered by the Air Ministry. The first of them, K6551, had its maiden flight with Cyril F. Uwins at the controls on October 15th, 1937 at Filton. The rear defensive machine gun was only installed later.

After an accident caused by malfunction of the retractable undercarriage, the machine was completely rebuilt, now installing the probably soundest engine for that purpose, the Bristol "Perseus", delivering 675 kw (905 hp). Meanwhile, the other prototype K6552 was equipped with a Bristol "Taurus II" radial engine, which delivered 783 kw (1050 hp). This engine was of characteristically compact construction, it had a diameter of only 117,5 cm. In May 1938, this machine was renamed type 148B and underwent comparative tests with the first prototype K6551.

Picture #4: Bristol 148B "K6552"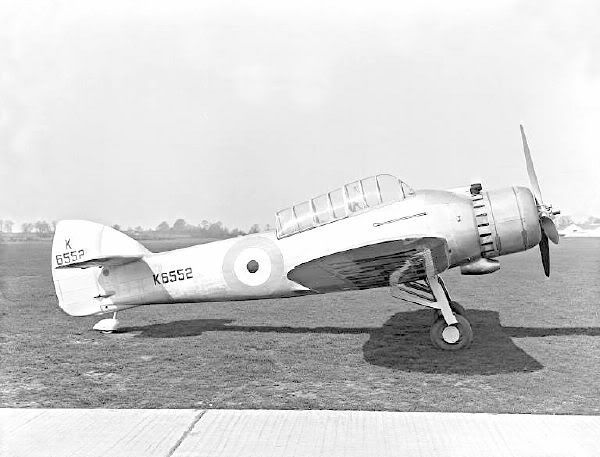 However, the further development of this type was soon delayed. The first prototype went into service as ground training station for instruction of technical staff and got its registration changed to 2374M.

The farthest development of type 148/148B remained on the status of prototypes. For the intended purpose, the Air Ministry only chose the competitive type Westland "Lysander", and in the following time, Bristol concentrated its bomber development on the two-engined types "Blenheim" and "Beaufort".

Source: http://www.samoloty.ow.pl/str012.htm (vanished, but unforgotten)

Regards, RT